Bloomington Building Washing Made Easy With Our Expert Help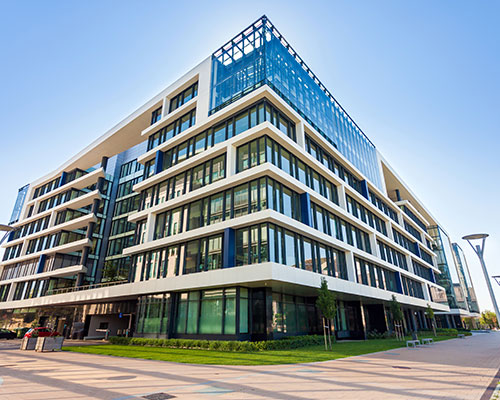 Get the best building washing for your Bloomington business when you call the pressure washing team from Quality Blast! As a local business ourselves we know how important it is to keep your building's exterior looking fresh and professional.
Whether you have a multi-level or single-story building, even if you have several buildings, the experienced cleaners from Quality Blast are here to help make cleaning your exterior easier than ever.
Our expert team of pressure washers has the experience, skill, and best equipment to deep clean your business. Whether you need:
Building washing
Rapid graffiti removal
Dumpster pad cleaning
The pressure washing specialists from Quality Blast are ready to handle your property's biggest jobs!
If you're looking for quality, affordable building washing for your Bloomington business call 217-308-8499 to schedule a service now!
Maintain Your Business Buildings With Exterior Building Cleaning
Whether you have a single-story shop or multi-level office building, the professional pressure washers from Quality Blast want to help you keep it clean. Our premium building washing will remove dirt, dust, pollen, and buildup for a streak-free shine and a great lasting impression.
Simplify Your Building Maintenance With Expert Exterior Business Surface Washing
Property maintenance is a breeze when you call the clean team from Quality Blast! We want to help business owners check a few items off of their to-do lists this season, starting with building washing for a superior finish your customers and clients will notice.
Regular building washing is a simple way to ensure that you're always making the right first impression. Building washing has multiple benefits for commercial property owners. Not does it make your building look great but it helps keep your property values high. In addition, annual building washing is a simple way to keep an eye on the exterior of your structure. Cracks, discolorations, and pest nests can be small things that go unnoticed until they start to create an expensive problem down the road.
Keep your building beautiful while saving yourself time and money with premium building washing from Quality Blast!
Frequently Asked Building Washing Questions
Quality Blast is proud to offer building washing for all types of structures. We have the experience and equipment to safely clean one-story and multi-level buildings. When it comes to siding materials whether brick, glass, wood, vinyl, concrete, or steel, we have the skill to safely clean it for a sparkling professional finish.
It depends on your needs and location. Normally once a year is fine for removing dust, dirt, and common buildup from your building. But if you are located in a high-traffic area and dust, pollutants, and fingerprints are a constant bother then cleaning your business's exterior every six months is the perfect way to ensure it always looks its very best.
LET US EARN YOUR TRUST! SCHEDULE YOUR BLOOMINGTON PRESSURE WASHING SERVICES TODAY!