Paver Cleaning To Restore Your Bloomington Hardscaped Surfaces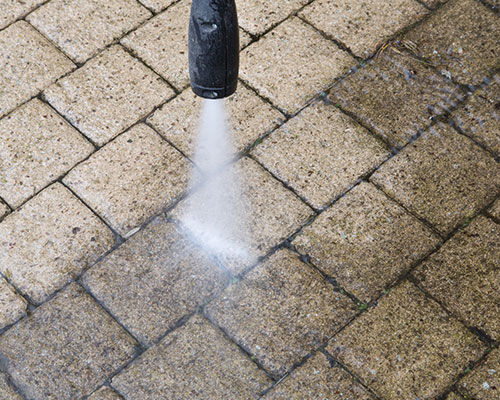 Get paver cleaning for your Bloomington home! Quality Blast premium paver cleaning service is an economical way to preserve your paving stones and boost their appearance so they look great season after season.
Quality Blast is proud to offer first-class, affordable pressure washing for Bloomington and the surrounding areas! Our extensive line of services means that we are your one-stop shop for all things pressure washing. Homeowners that need seasonal maintenance for their gutters or roofs know they can count on us to help them check a few boxes off of their list.
Whether you need periodic maintenance or you are in need of a one-time service like graffiti removal, the experts from Quality Blast offer homeowners peace of mind plus the benefit of our knowledge and expertise when it comes to pressure washing.
Worried pressure washing would be too hard for your pavers or siding? No problem! Quality Blast offers soft washing to safely clean any exterior surface without the risk of damage. Soft washing is perfect for tasks like paver cleaning, house washing, and roof cleaning. When you need a gentle approach to cleaning, soft washing is the answer.
Contact us today at 217-308-8499 to schedule paver cleaning for your home.
Brick & Stone Paver Washing
Got pavers that have seen better days? Regular paver cleaning will lift and wash away unwanted weeds, moss, mud, and build-up for a refreshingly clean surface that looks like new. Whether you have a path or a patio, keeping your pavers clean and clear means having a beautiful, safe area that friends and family can enjoy all season long.
Paver cleaning is an affordable way to keep your pavers clean but also strong. Materials like concrete and brick are porous which means they can benefit from regular cleaning. Paver cleaning can be used to remove deep stains, moss, mold, and algae that can overtime weaken your pavers.
Affordable House Washing In Bloomington
Ready to take your home's appearance to the next level? House washing is an economical way to restore your home's siding without breaking your budget. Yearly house washing can easily remove years of stains, mildew, mold, dirt, and animal droppings to reveal your home's natural beauty.
House washing is available and safe for a variety of siding materials, including but not limited to:
Brick
Vinyl
Slate
Aluminum
Concrete
Wood
and more! When you need house washing to boost your curb appeal count on the pressure washing team from Quality Blast to deliver! You'll see a difference in as little as one afternoon!
Call us at 217-308-8499 to schedule house washing now!
LET US EARN YOUR TRUST! SCHEDULE YOUR BLOOMINGTON PRESSURE WASHING SERVICES TODAY!