When Should I Schedule Pressure Washing For My Property?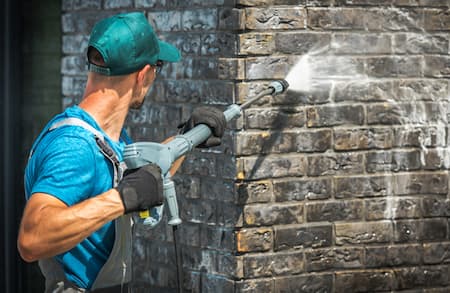 If you need house washing or driveway washing, you might be wondering when should you schedule it. Does it even matter? Can professionals pressure wash any time? Whether you want to boost your curb appeal or you're getting ready to sell, these are great questions if you need exterior cleaning for your property.
We're sure you've heard the term "spring cleaning" so what better time to schedule a service? Cleaning in late spring usually means mild weather conditions and more sunshine. This makes it easier to pressure wash your property and gives it more drying time.
Pressure washing can normally be done spring through autumn, or March-November, weather allowing. Scheduling exterior cleaning for your home before freezing temperatures come along is an important part of making sure your property is ready for whatever mother nature throws at it.
How Often Do I Need Professional Pressure Washing?
Now that you know the best time to schedule a service you might be wondering, well how often? This depends on the property itself and how clean you would like it. Jobs like house washing and roof cleaning can be done once a year. Removing pollen, dirt, mildew, and algae is a simple way to keep your property values high and your home beautiful.
Other tasks like gutter cleaning should be done twice a year, in the spring and autumn. Twice-yearly cleaning prevents potential clogs that lead to standing water that could freeze over winter. It also means that when heavy spring and summer storms roll in your gutters will be clear and able to carry rainwater away from your home's foundation.
There is also the question of concrete. Some people like to have their driveways or sidewalks cleaned once a year. This helps keep them looking like new and removes weeds, dirt, and stains. However, other people don't see the need to clean more than once every two years.
Do you have questions about pressure washing? No problem! Call the friendly pros from Quality Blast today at 217-308-8499 to get started!
Seasonal Pressure Tasks You Should Not Overlook
While you might put off cleaning your windows or your deck this year, there are a few essential areas that benefit from seasonal pressure washing that should not be ignored.
Roof cleaning: Yearly roof cleaning has the potential to extend the life of your shingles by 2+ years! Yearly cleaning removes leaves, dirt, and debris plus moss and algae that can trap moisture and slowly eat away at your roof.
Gutter Cleaning: Twice yearly gutter cleaning is important if you don't want rainwater puddling around your foundation. Clogged gutters can lead to issues like structural damage, mold and mildew growth, and foundation issues. Keeping your gutters free and clear allows rainwater to flow where it should instead of sticking around your home.
House Washing: While it might not seem like a big deal house washing not only keeps your property values high and creates beautiful results, but it can also help save you time and money later on. Yearly house washing helps you keep an eye on your home's siding, allowing you to spot small issues like early signs of pest infestations, cracks, or discolorations. Addressing small things before they become big expensive projects is always a good thing.
LET US EARN YOUR TRUST! SCHEDULE YOUR BLOOMINGTON PRESSURE WASHING SERVICES TODAY!